THE MOST REPUTABLE HORSE RIDING CLUB ON NAXOS
Enjoy the Nature
Ride through the 'jungle roads' onto the beach. Most tours ride through the sea to a small island. We stop on the way back at a beach cafe to buy a drink and enjoy the view across to Paros or in the evening watch the sunset.All abilities are catered for from beginners to advanced riders.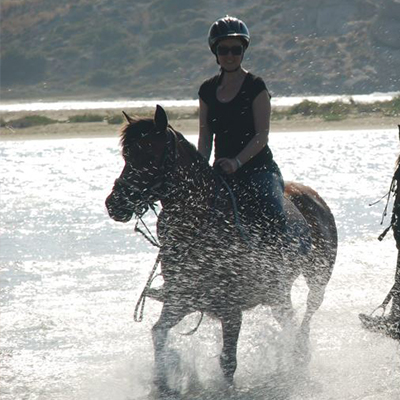 Gallop at the beaches
Gallop at the
wonderfull endless beaches, 
swim with the horse in the 
Mediterranean, ride in the full
moon or trial for days in the untouched
nature of Naxos.
Our Horses
You never have been
on horseback but you are interested 
in the way of living of horses? We offer you
the possiblity to make your dream come 
true and show you very gentle to get
a good relationship with horses. 
WELCOME TO NAXOS HORSE RIDING CLUB
DAILY RIDES
Join Us Daily
Two rides Daily
We are open every day during the summer season 
and have two rides daily including the evening sunset 
ride.